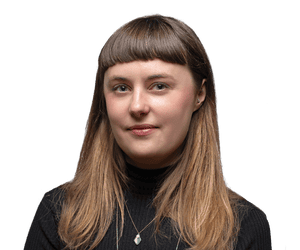 Abby Young-Powell
The gunmen in the Ulvade school shooting allegedly sent a series of text messages to a girl in Germany, just moments before he carried out his deadly attack, according to CNN and German media.
The 18-year-old gunman told the teenage girl, who lives in Frankfurt, that he had just shot his grandmother in the head and that he was going to shoot up an elementary school next, according to screen shots seen by CNN.
"Ima go shoot up a(n) elementary school rn (right now)," he wrote at 6:21 p.m. Central European time (CET), which was 11:21 a.m. Central time (CT) in Texas.
The girl told CNN that Salvador Ramos had been talking to her regularly online since the beginning of May and that he told her he planned to come and visit her in Europe. She said he would send her selfie videos and that he seemed to spend a lot of time at home by himself.
Before the attack, the suspect told the teenage girl that he had bought bullets. But when she asked what he was going to do with them, he said she should "just wait for it".
Here are some more of the striking images from last night of the makeshift memorial that has been established outside the Robb elementary school.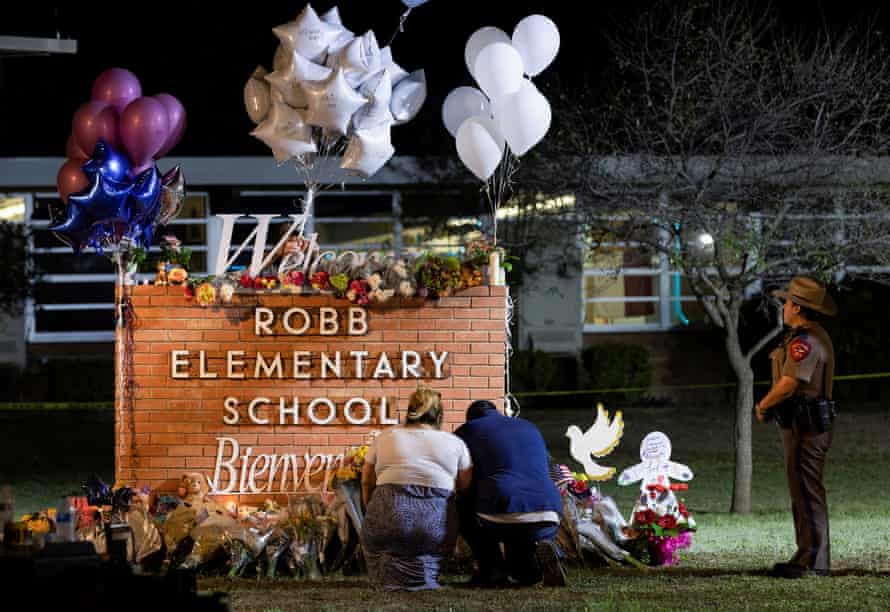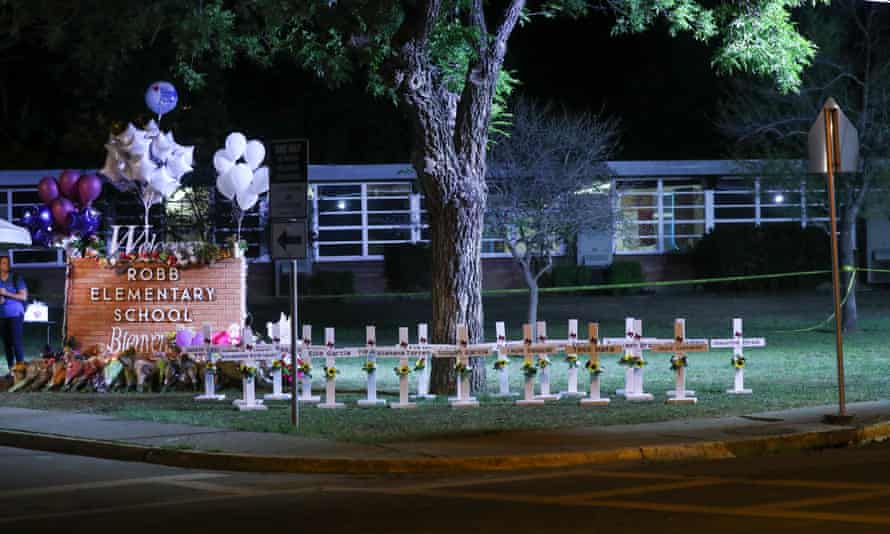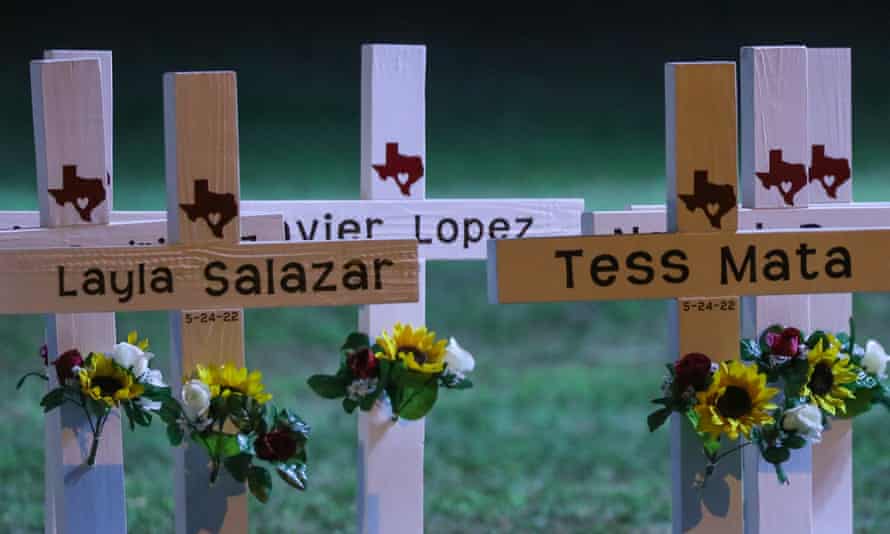 Jimmy Kimmel has questioned why his monologue about the Robb elementary school shooting was not broadcast in full by on Dallas/Fort Worth's ABC affiliate channel WFAA/Channel 8 in Texas.
According to local media the Fort Worth Star-Telegram, Kimmel's six-minute monologue was cut off by commercials, which began with an in-house news spot.
Variety reports that the station responded to Kimmel's query by saying: "We'd made the decision earlier in the day to extend our 10 o'clock news to include extra Uvalde coverage in our broadcast, it had nothing to do with your monologue. We're on the same team."
Frustrated onlookers urged police officers to charge into the Texas elementary school where a gunman's rampage killed 19 children and two teachers, witnesses have told Associated Press.
"Go in there! Go in there!" nearby women shouted at the officers soon after the attack began, said Juan Carranza, 24, who saw the scene from outside his house, across the street from Robb Elementary School in the town of Uvalde. Carranza said the officers did not go in.
Javier Cazares, whose fourth grade daughter, Jacklyn Cazares, was killed in the attack, said he raced to the school when he heard about the shooting, arriving while police were still gathered outside the building.
Upset that police were not moving in, he raised the idea of charging into the school with several other bystanders.
"Let's just rush in because the cops aren't doing anything like they are supposed to," he said. "More could have been done."
"They were unprepared," he added.
Minutes earlier, Carranza said he had watched as the gunman crashed his truck into a ditch outside the school, grabbed his AR-15-style semi-automatic rifle and shot at two people outside a nearby funeral home who ran away uninjured.
The 19 child victims and two teachers killed in the school have all now been identified.
Musician Don Mclean has said in a statement that he will no longer be performing at the National Rifle Association convention due to take place in Texas later this week.
Mclean said:
I have decided it would be disrespectful and hurtful for me to perform. I'm sure all the folks planning to attend this event are shocked and sickened by these events as well.
At the moment, former president Donald Trump, senator Ted Cruz and Texas governor Greg Abbott are all still scheduled to speak at the event, which takes place just a couple of days after 19 elementary school pupils were killed in the state.
Alvin Chang and Andrew Witherspoon have put together for us a look at how the push for gun control in the US rises and falls with each school shooting. They write:
Mass shootings are so common in America that most of these tragedies barely make a blip in the gun control debate.
The country experiences a mass shooting nearly every day, and once every three weeks someone is shot on school property, according to data from the Center for Homeland Defense and Security. The large majority of these shootings don't get coverage in national media outlets. Among the few things that keep gun control in the public consciousness are school shootings with large death tolls.
After the Sandy Hook shooting, gun control stayed in the news cycle for months, according to data from the GDELT project which analyzes closed caption text. An extended political debate eventually led to 23 executive actions from President Barack Obama which, among other things, created a more robust background check system. Soon thereafter, Congress nearly passed bipartisan gun control legislation.
A similar thing happened after 17 people were killed in the 2018 Parkland school shooting. After extensive media coverage and political handwringing, federal legislation stalled but state legislators passed a flurry of gun control laws.
Read more here: Outrage and inaction – how the push for gun control rises and falls with each school shooting
Overnight NBC has been carrying an anonymous interview with a teacher who was at the Robb Elementary School shooting. Interviewed by Mike Hixenbaugh, the teacher described it as "the longest 35 minutes" of their life. Here are some of the key quote:
What do you want me to say? That I can't eat? That all I hear are their voices screaming? And I can't help them?

They've been practicing for this day for years. They knew this wasn't a drill. We knew we had to be quiet or else we were going to give ourselves away.
The teacher described comforting the young children and keeping them quiet, until people arrived to help them evacuate. They said "After the last kid, I turned around to ensure everyone was out. I knew I had to go quickly, but I wasn't leaving until I knew for sure."
They then said that they had received messages of thanks from parents, and explained how strong the bond is between elementary teachers and their pupils. The teacher said:
It's not just their baby. That's my baby, too. They are not my students. They are my children.
You can read it in full here: NBC – A teacher in Uvalde, Texas, describes 'the longest 35 minutes of my life'
As the US wakes up in the aftermath of Tuesday's school shooting in Texas, here is what we know:
Onlookers reportedly urged police officers to charge into the school on Tuesday, while the shooter was inside. Juan Carranza, 24, who saw the scene unfold from outside his house across the street said he felt arriving officers should have entered the school sooner.
Law enforcement say the 18-year-old gunman charged into one classroom at the Robb Elementary School. Lt Christopher Olivarez of the Texas Department of Public Safety told CNN the gunman once there "just started shooting children and teachers that were inside that classroom".
About "40 minutes or so" elapsed from when the gunman opened fire on the school security officer and when the Border Patrol team shot him, Department of Public Safety Director Steve McCraw said.
Javier Cazares, whose daughter, Jacklyn Cazares, was killed in the attack, said he raced to the school and arrived while police were still massed outside the building. "Let's just rush in because the cops aren't doing anything like they are supposed to," he recalled. "More could have been done."
However, US Border Patrol chief Raul Ortiz said agents "didn't hesitate" when responding to the shooting. "They didn't hesitate. They came up with a plan. They entered that classroom and they took care of the situation as quickly as they possibly could," he told CNN. More than 100 federal officers responded to Uvalde school shooting, Ortiz added
All of the 19 young victims of the shooting have now been identified. A law enforcement official said all victims were in the same fourth-grade classroom at the school.
Before attacking the school, the gunman, named as Salvador Ramos, shot and wounded his grandmother at her home. Neighbours called police when she staggered outside and they saw she had been shot in the face, Texas Department of Public Safety spokesperson Travis Considine said.
The gunman sent three online messages in the half-hour before the mass shooting, according to the governor of Texas, Greg Abbot. The private, one-to-one messages were sent via Facebook, and were "discovered after the terrible tragedy," company spokesman Andy Stone said. He said Meta, which owns Facebook, is cooperating with investigators.
The gunman had legally bought the rifle and a second one like it last week, just after his birthday, authorities said. Investigators have so far shed no light on the motive for the attack.
Community members attended a prayer vigil Wednesday evening at the Uvalde County Fairplex Arena.
Authorities in Texas have called for more armed officers and armed teachers in schools, as Republican leaders have doubled down on their opposition to gun control.
Texas Democrat Beto O'Rourke told the state's governor, Greg Abbott, his inaction over gun violence made the shooting at an elementary school on Tuesday "predictable". O'Rourke, who is running to be the next governor, told Abbott in a news conference on Wednesday: "This is on you, until you choose to do something."
The National Rifle Association released a statement describing the shooting as "the act of a lone, deranged criminal" and pledged to "redouble our commitment to make our schools secure". The group will gather in Houston for its first annual meeting in three years this weekend.
US president Joe Biden said he is "sick and tired" of continued mass shootings in the US and access to military-style weapons for youth. "When in God's name will we do what needs to be done to, not completely stop, but fundamentally change the amount of carnage that goes on in this country." he said. "To state the obvious, I'm sick and tired, I'm just sick and tired of what is going on, what continues to go on."
I am Martin Belam in London and I'll be bringing you more reaction and the latest developments until handing over to my colleagues in New York. You can contact me on martin.belam@theguardian.com