WHITERIVER, Ariz. – A police officer was killed and another was injured in shootings on the Fort Apache Indian Reservation on June 2, according to the Navajo County Sheriff's Office.
County officials say it started when a White Mountain Apache police officer pulled over a vehicle on East Fork Road in Whiteriver at around 7 p.m. that evening.
"An altercation occurred between the officer and the person operating the vehicle," officials said. "During the altercation, the officer was fatally shot."
The deceased officer was identified as Ofc. Adrian Lopez Sr., 35, and the suspect was identified as Kevin Dwight Nashio. We have reached out to a member of Nashio's family, who said the family will not be making any statements at this time.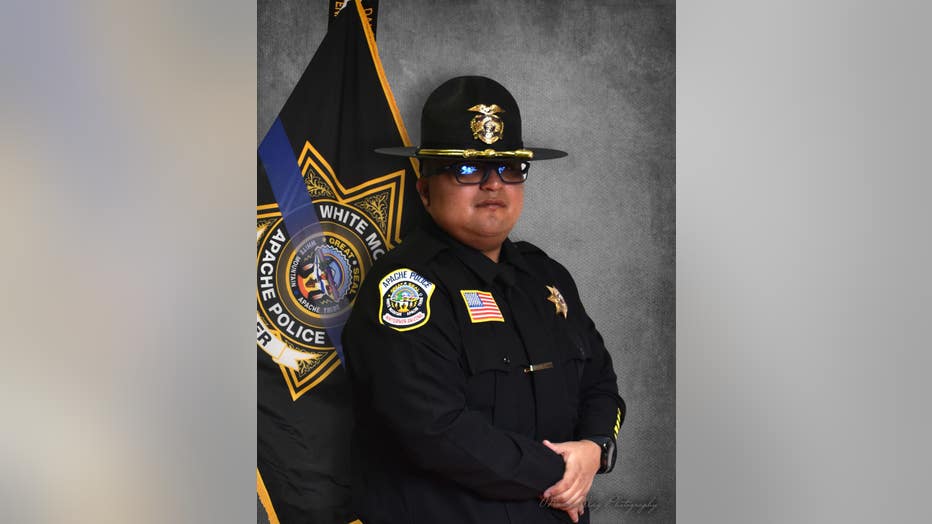 Nashio reportedly stole the Lopez's police car and fled, leading other White Mountain Apache officers on a 40-mile chase through the Fort Apache Reservation that ended near Hawley Lake. 
"During that vehicle pursuit in very primitive, rugged area, a rolling gun battle, if you will, took place between the officers and the suspect vehicle as he was fleeing that scene," said Navajo County Sheriff's Office Chief Deputy Brian Swanty.
"Little did we know that was the suspect that was driving by," said a resident in the area where the pursuit happened. She said she witnessed a police car speed by while she was out of her porch, but she did not know that an officer was not behind the wheel.
Officials with NCSO say they do not know yet how many shots were fired before Nashio crashed into a tree.
A gun battle broke out after the pursuit, officials said. One officer was hit by gunfire and Nashio was killed.
The injured officer was flown to a Phoenix-area hospital for treatment. The officer's injuries are considered to be non-life-threatening.
"It is very, very difficult to try to imagine this for a training scenario," said Chief Deputy Swanty. "This is something that is not even fathomable. As I've talked to my colleagues here in this room, none of us have seen anything of this nature. I can't imagine what those officers were going through during this event."
Fallen officer remembered 
"The Tribe is indebted to our Police Department and EMS for their prompt and courageous response, and grateful for the assistance rendered by our neighboring jurisdictions," reads a statement from the White Mountain Apache Tribe. "Our prayers, tonight, are with the families of those officers involved, and with all of our first responders."
On June 3, a procession was held for Lopez Sr. The person who witnessed the pursuit also watched the procession, as it left Whiteriver for the Pima County Medical Examiner. The person said her daughter is a police dispatcher who is taking this tragedy hard.
"When you work together, you're like a family, so she was all heartbroken, but she has to be strong for the rest of them," said the person.
 Meanwhile, a bouquet of flowers lay on the ground at the White Mountain Apache Police Department in Whiteriver. The flag at the department headquarters is at half-staff.
"Last night, a wife lost her husband. Children lost their father. Our tribe lost a beacon of light," said White Mountain Apache Tribe Chairman Kasey Velasquez.
The FBI will lead the investigation into the shootings. Spokesman Kevin Smith said no additional information was immediately available.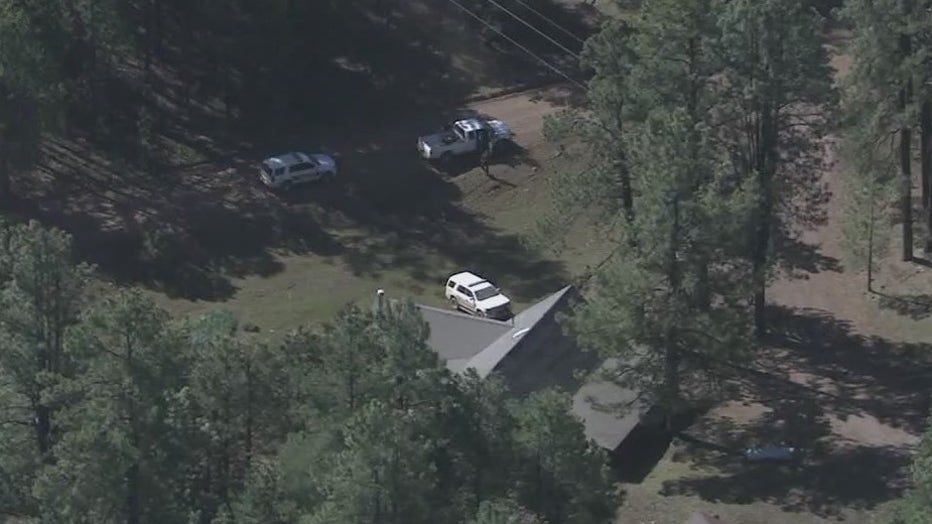 Scene of a deadly officer-involved shooting on the Fort Apache Indian Reservation.
The Associated Press (AP) contributed to this report.
Other Arizona Stories
(Click here for interactive map)